Popular Cardano-based decentralized exchange WingRiders has lost its position as the most valuable DEX on Cardano. 
WingRiders slumped from the first position to third after losing more than 59% of the total value locked (TVL) on the platform in the past 30 days. 
At the time of writing this line, WingRiders is now the third-largest DEX by total value locked, with a TVL of $19.66 million. It is noteworthy that WingRiders maintained the top spot for more than two months, claiming  42% of TVL On Cardano. However, the DEX has fallen from glory ever since. 
Minswap Is Now Cardano's Most Valuable DEX
The development also affected the total value locked on Cardano. The total value locked on Cardano has fallen below $100 million in the last 30 days after the WingRiders TVL slumped.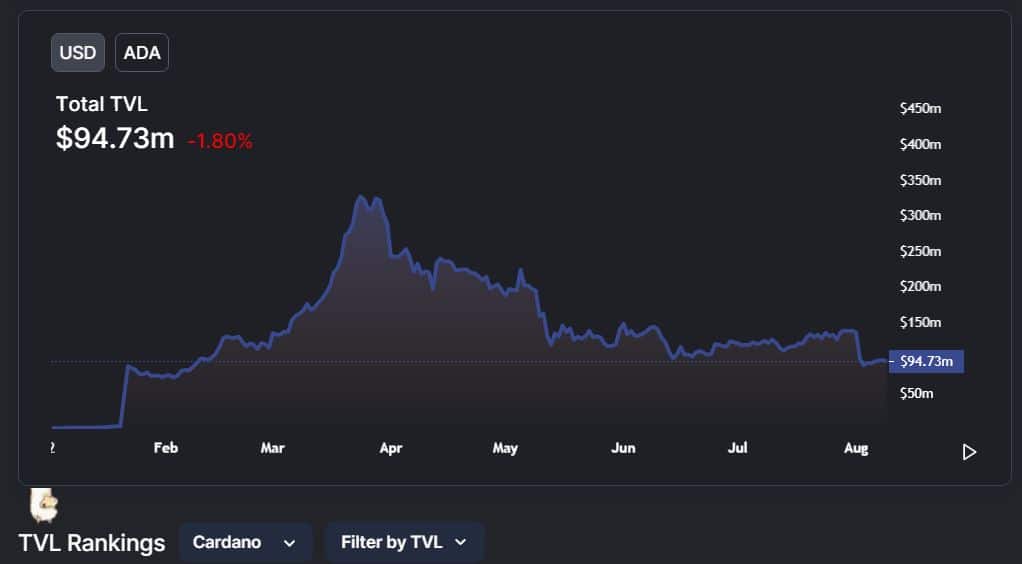 Interestingly, Minswap has taken the lead to become the most valuable decentralized exchange on Cardano after the massive decline of WingRiders' TVL. 
At press time, Minswap is leading, with a $49.09 million total value locked on the platform. The DEX hit the milestone after recording a massive growth of 30.9% in its TVL in the past 30 days. Minswap accounts for 51.82% of the total value locked on Cardano. 
SundaeSwap, the first decentralized exchange on Cardano, is now the second most valuable DEX in the ecosystem. SundaeSwap is second in the ranking, with $19.72 million in TVL. 
Like WingRiders, SundaeSwap has also lost a significant amount of its TVL over the past 30 days. In the past month, SundaeSwap has lost nearly 10% of the funds locked on the platform.
Commenting on the development, Cardano Daily, a platform that shares new developments about Cardano, said: 
"After the major decline of @wingriderscom, the TVL scenario of the Cardano ecosystem has stabilized back to normal as we have seen in the past few weeks. @MinswapDEX still led the ecosystem with $51M TVL, contributing 50% of the ecosystem." 
CARDANO TVL STATUS
After the major decline of @wingriderscom, the TVL scenario of the @Cardano ecosystem has stabilized back to normal as we have seen in the past few weeks. @MinswapDEX still led the ecosystem  with $51M TVL, contributing 50% of the ecosystem#tvl #cardano $ADA pic.twitter.com/xjZ6cHo8jX
— Cardano Daily (@cardano_daily) August 9, 2022
– Advertisement –
Source: https://thecryptobasic.com/2022/08/09/wingriders-losses-59-of-its-total-value-locked-plunges-cardano-tvl-below-100m/?utm_source=rss&utm_medium=rss&utm_campaign=wingriders-losses-59-of-its-total-value-locked-plunges-cardano-tvl-below-100m