InvestorPlace – Stock Market News, Stock Advice & Trading Tips
I like to consider myself a relatively astute investor. However, when it comes to cryptocurrencies like Dogecoin (CCC:DOGE-USD), I'm a newbie like many other people.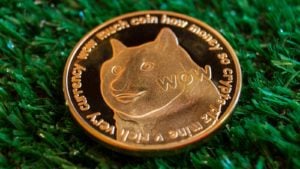 Source: Shutterstock
I've never bought a cryptocurrency. I've never contemplated buying a cryptocurrency. And I'm doubtful I'll see the day that I own a cryptocurrency. 
Recently, my InvestorPlace colleague, Mark Hake, pointed out that there are 5 billion Dogecoins mined each year, increasing its supply and providing for the possibility of speculation and hoarding. 
I can't tell you whether he's right or wrong. I can say for certain that there has never been more of a need for an exchange-traded fund that invests in and owns the major cryptocurrencies, including Dogecoin.
Here's why I feel this way. 
Dogecoin vs. Bitcoin vs. Ethereum
Hake makes the point that the market capitalization of Dogecoin on Feb. 23 was approximately 3.4% and 0.7% as large as Ethereum (CCC:ETC-USD) and Bitcoin (CCC:BTC-USD), respectively. 
He believes because Dogecoin can be used in blockchain transactions and be hoarded in much the same fashion as gold, it provides the astute investor with some diversification beyond the two biggest cryptocurrencies mentioned above. 
Hey, I'm always a proponent of diversification, especially when you're a newbie cryptocurrency investor like myself. Why own one or two when you could own the top 10 or 20?
I realize that a regular person could buy most of the cryptocurrencies that trade on Coinbase without too much capital. Fees, of course, will add to that cost. However, if you fear missing out, an ETF that allows you to do this without worrying about weightings, etc., seems so sensible. 
We're not quite there yet. 
What's Available?
In recent weeks, Canadian investors were treated to the launch of not one but two Bitcoin ETFs: Purpose Bitcoin ETF with net assets of ($475.5 million) and the Evolve Bitcoin ETF with net assets of $31.6 million.
While it's a step in the right direction, it does nothing for individual investors who want to place a diversified bet on cryptocurrencies. In many ways, it reminds me of the early days of gold and precious metals investing.
Before introducing the SPDR Gold Trust (NYSEARCA:GLD) in November 2004, owning gold was a major headache. However, by its 10th anniversary in 2014, the ETF had amassed $28 billion in total assets. Today, that's up to $61.3 billion.
As for precious metals ETFs listed in the U.S., there are eight with more than $1 billion with GLD and the iShares Gold Trust (NYSEARCA:IAU) accounting for a majority of the assets.
The best that crypto investors can do outside buying the two Bitcoin ETFs on the Toronto Stock Exchange is to invest in one of the few large blockchain ETFs that exist. 
The biggest, Amplify Transformational Data Sharing ETF (NYSEARCA:BLOK), has been around since January 2018. It has total net assets of $1.1 billion.
The ETF invests in companies actively involved in the development of blockchain technologies. It has an annualized total return of 39.0% over the past three years through Feb. 26, almost three times the entire U.S. markets. 
I don't know about you, but I wouldn't have a problem with those kinds of returns, making BLOK an excellent substitute for a crypto ETF.
The Bottom Line
On Feb. 25, InvestorPlace Web Content Producer, Sarah Smith, brought readers up to speed about the Securities and Exchange Commission's possible investigation into Elon Musk's tweets supporting Dogecoin. 
As Smith points out, while cryptocurrencies are meant to be free from regulatory oversight, the involvement by Musk, one of the world's wealthiest persons, could have a knock-on effect for all the other cryptocurrencies. 
However, it's also possible that any investigation that might occur won't find anything incriminating against the billionaire. In that case, Dogecoin gains further legitimacy, pushing its price even higher. 
If a diversified cryptocurrency ETF came out, I still probably wouldn't invest, but at least I'd consider it. Dogecoin on its own is a volatile trade I'd be unwilling to make. That doesn't mean it's not for you.
On the date of publication, Will Ashworth did not have (either directly or indirectly) any positions in the securities mentioned in this article. 
Will Ashworth has written about investments full-time since 2008. Publications where he's appeared include InvestorPlace, The Motley Fool Canada, Investopedia, Kiplinger, and several others in both the U.S. and Canada. He particularly enjoys creating model portfolios that stand the test of time. He lives in Halifax, Nova Scotia. At the time of this writing Will Ashworth did not hold a position in any of the aforementioned securities.
The post An ETF to Hold Dogecoin and Other Cryptocurrencies Would Be Ideal appeared first on InvestorPlace.
The views and opinions expressed herein are the views and opinions of the author and do not necessarily reflect those of Nasdaq, Inc.