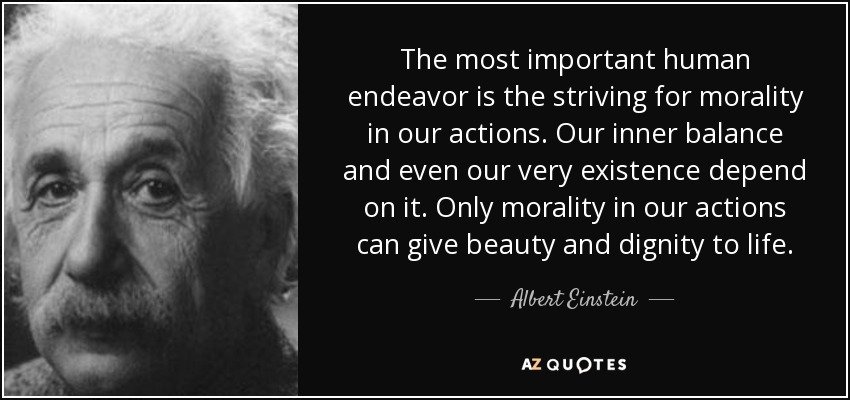 Rise & Grind 👑🙌🏾
The 2nd Paramitas (Perfection) is Morality (moral discipline). I want you to think of this paramita as the enlightened quality of ethical behavior, self-discipline, personal integrity, and honor.
The essence of this paramita is to avoid harming others, and to be virtuous in thoughts, words, and actions. It's based on the principles of love & compassion for all beings.
In today's quote, Einstein is saying morality is an unavoidable fact that should be part of our life. So we should make sure that it is shown in our daily activities. Einstein tried to convince his targeted audience by arguing that morality would not only beautify our deeds in life, but also serve as a tunnel that allows dignity to flow freely into it.
So this week we will focus on ways to being mindful of the distinction between right and wrong or good and bad behavior.
Steps to take on this path of enlightenment is:
– Do no harm to anyone.
– Take nothing that is not freely given.
– Speak truthfully and helpfully (kindly).
– Refrain from sexual misconduct (Using your sexual energy wisely, not cheating, not making unwanted advances, etc.)
– Keep my mind clear (refrain from intoxicants, which can be anything from substances, social media, unhealthy foods, video games, phone usage, etc.)
Know that "The time is always right to do what is right"….Let the work see your beautiful light ✨ 🙏🏾
Give our Discord a try with this temporary Invite: https://discord.gg/tnYHrUmu4S
Safe, laid back environment. Come for a positive morning vibe fit for royalty.