The top memecoins Dogecoin and Shiba Inu haven't been spared in the latest crash in the crypto market as the coins are currently down 16% and 12%, respectively.
Dogecoin And Shiba Inu Bleed Amid Wider Crypto Crash
The memecoins had been having a rough time for a while now, much like the rest of the market, and today the coins have taken an even deeper plunge.
After dropping down 16% during the past 24 hours, Dogecoin is now trading around $0.0547. Over the last seven days, the crypto has amassed a big 34% loss.
Here is a chart that shows the trend in the price of DOGE over the past five days: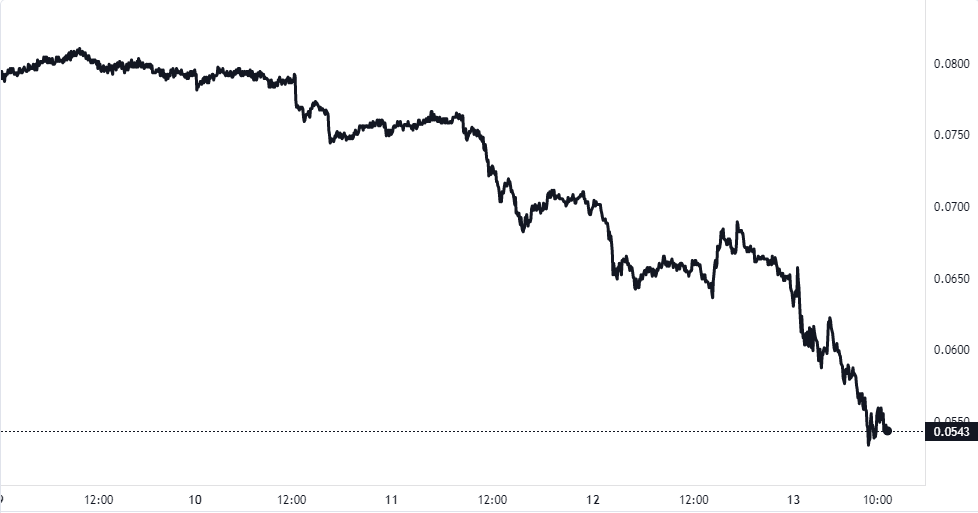 Looks like the price of the crypto has dropped off over the last few days | Source: DOGEUSD on TradingView
When looking over the span of the past month, Dogecoin finds itself around 36% in the red. The last time the crypto's price had this value was way back in March 2021.
Compared to the top that the coin formed a couple of months later (that is, in May 2021), the coin has shed over 91% in value.
Related Reading | Peter Schiff Warns "Don't Buy The Dip" As Bitcoin Crashes On Recession Fears
As for Shiba Inu, its price is going around $0.00000754 at the time of writing. Losses over the past day stand at about 12% for the DOGE cousin.
The below chart shows the trend in the value of the crypto over the last five days.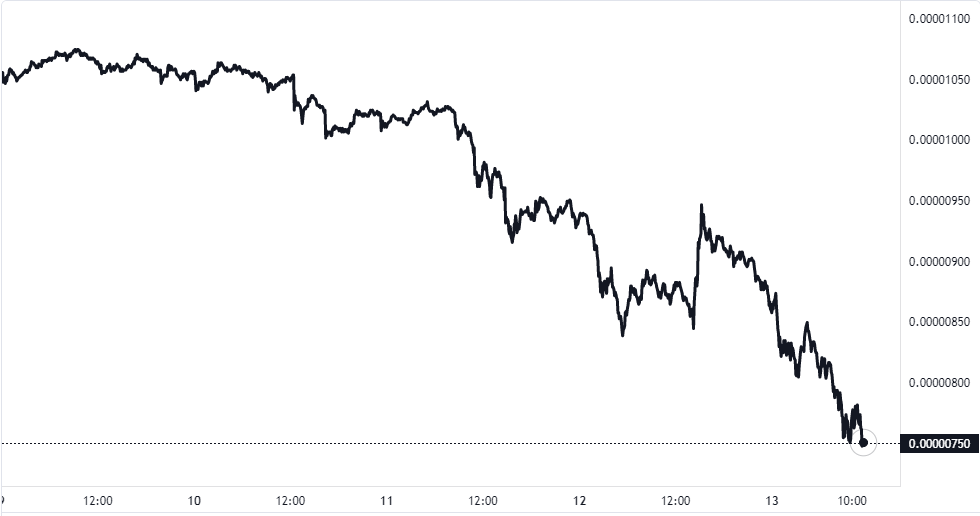 The price of the coin seems to have plunged down over the last few days | Source: SHIUSD on TradingView
Weekly and monthly returns for SHIB are also a bit better than for Dogecoin, both floating at about 30% right now.
Related Reading | Grayscale Hires Donald B. Verrilli In Persuit Of Getting SEC Approval And Bitcoin ETF
Shiba Inu's price was last at this value in October 2021, just before the coin went on an unprecedented rally where the coin was around 1000% up for 30 days at one point.
DOGE vs SHIB In Market Capitalization
In terms of market cap, Dogecoin is currently 10th in the crypto list, while SHIB has dropped down to 17th. Below is a table that shows their standings in the market.
SHIB is now seven places behind DOGE on the crypto market cap list | Source: CoinMarketCap
Amid the doom and gloom, there have also been some positive developments for the two memecoins just recently.
For example, at the start of this month, the Mexican food chain Chipotle started accepting both Dogecoin and Shiba Inu as payment options.
Further mainstream adoption is one way for the coins to establish some long-term relevancy, so that they could increase their chances of making a real comeback in the future.
Featured image from Unsplash.com, charts from TradingView.com