DOGE rice has significant Fibonacci retracement levels at $0.02.
Dogecoin price is following the technicals mentioned in previous outlooks.
Invalidation of the bearish count is a breach above $0.125.
Dogecoin price from a macro perspective is still a favorable chart as $1.00 targets should be reached in years to come. However, such a prosperous trajectory hardly ever comes without smart money involvement in the crypto space. Liquidity levels will likely be tested before the DOGE coin price can catapult to higher targets.
Dogecoin price is on pace for a catastrophic decline
Dogecoin price shows multiple confluence signals pointing at a future decline. The historical parallel channel resides in the $0.02 zone, which has yet to be breached. A Fibonacci retracement tool surrounding the all-time lows to all-time highs has a 61.8% Fibonacci level at $0.01. Lastly, the current $0.08 sideways consolidation yields the belief that one more sharp decline is in the cards to balance the overall declining structure. 
Dogecoin price displays low volume as the price declines, which is bearish in the short term but a good signal for macro targets. The lack of bullish involvement means investors are unwilling to do business at the current $.08 levels. A discounted Dogecoin price could be the catalyst before the next bull-run occurs. For this reason, investors should keep the $0.01 as a probable outcome for the Dogecoin price.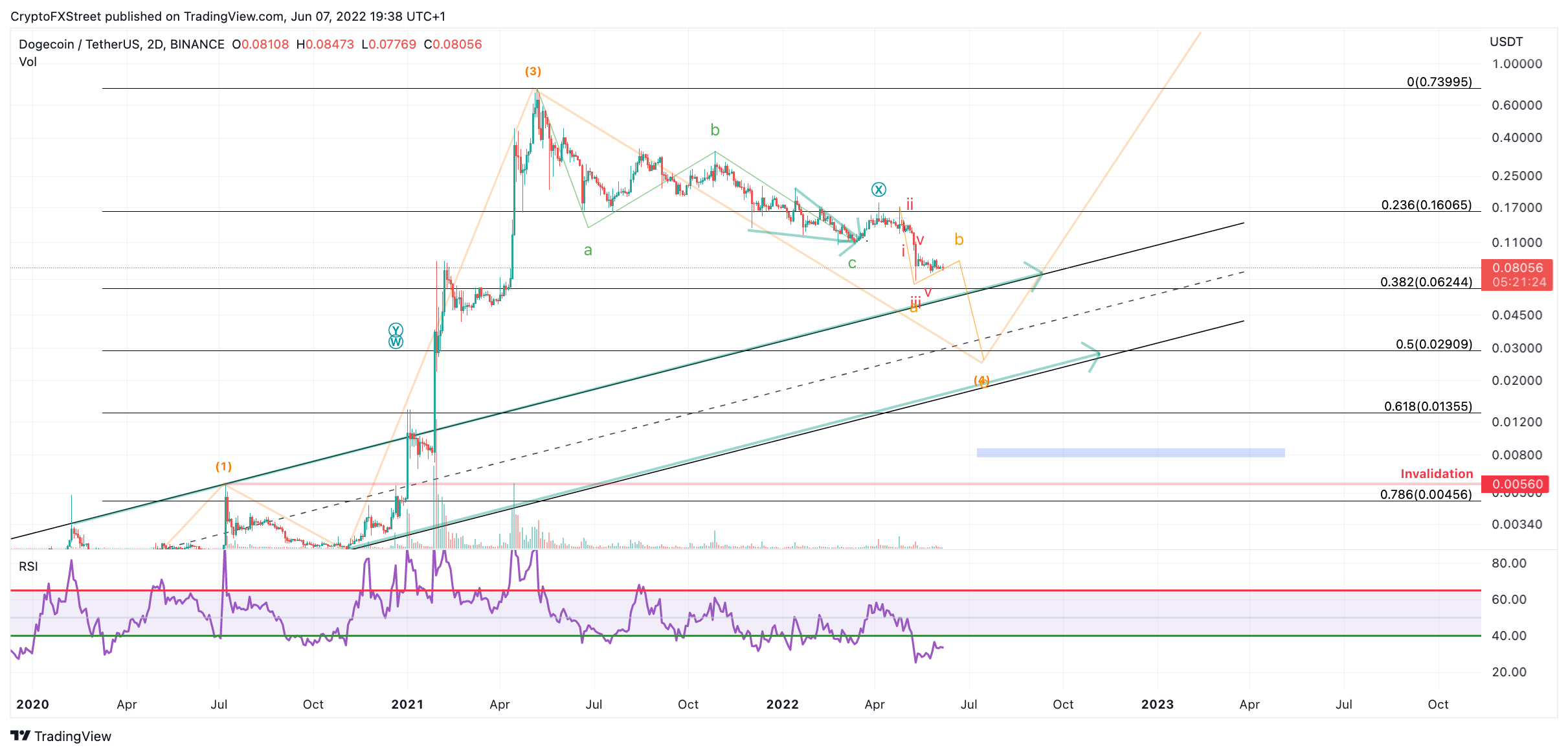 DOGE/USDT 2-Day Chart
Invalidation of the bearish thesis is a breach above $0.125. If the bulls breach this level, a rise to $0.16 could occur, resulting in a 100% increase from the current Dogecoin price.