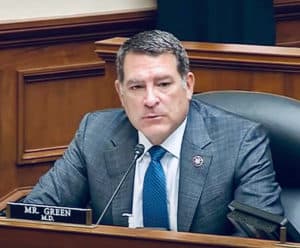 Representative Mark Green, R-Tenn., recently became one of the first congressmen to profit on Dogecoin's (DOGE) meteoric rise. Green reportedly made two purchases of DOGE of $1,000 and $15,000 each (as revealed in public disclosure forms).
These digital asset investments added to Green's extensive cryptocurrency holdings, which include Basic Attention Token, CELO, EOS, Ethereum (ETH), and Stellar Lumens (XLM). This, according to an analysis shared by research firm Unusual Whales. Green joins just two other US representatives that are confirmed to have made investments in these new assets.
Due to the fact that active discussions regarding stricter crypto regulations are still ongoing, these investments by a Congress member are not appropriate, according to Richard Painter, a former White House ethics attorney who worked under President George W. Bush.
In statements shared with the Salon, Painter said that all this just "boggles" his mind that it's actually permitted. He pointed out that there are "conflict of interest laws that govern executive branch officials in charge of regulation." He questioned why legislators are treated differently.
Green started his career working in the Army as a physician. He's well-known for his time at the Tennessee Legislature for assisting with ending the state's income tax program and also backing the debunked or disproven theory that vaccines led to autism in American children.
Since Green made his first DOGE purchase on April 1, 2021, when it was trading for around $0.06, the virtual currency's price had surged dramatically to $0.12 on April 14 – which was when Green completed his second purchase.
Dogecoin was created back in 2013 as just a joke. It was trading for only $0.01 at the beginning of 2021 before billionaire Mark Cuban, Food Network star Guy Fieri, and Tesla and SpaceX CEO Elon Musk began promoting Doge via social media. DOGE price is around $0.30 at the time of writing, but it was trading as high as $0.72 earlier this month.
It seems that Green may have sold some of his DOGE holdings (somewhere around $1,000 to $15,000 on May 11, according to a report from the Salon).
Green appears to have sold his DOGE holdings around the time that Elon Musk made an appearance on SNL. Interestingly, the Dogecoin price crashed after Musk had gone on the show.
When Green sold his coins, DOGE was trading at around $0.50 which means he would have made over a 700% return on his April 1 investment.
Senator Cynthia Lummis, R.-Wyo., and Rep. Bob Goodlatte, R.-Va., also revealed that they have invested in Bitcoin. Lummis, who recently took office, told Fox News that it was her goal to explain Bitcoin to her colleagues — which she acknowledged will be quite challenging.