InvestorPlace – Stock Market News, Stock Advice & Trading Tips
Now the third-largest cryptocurrency by market cap, Cardano (CCC:ADA-USD) is alive with buzz in the crypto community. Indeed, Cardano is one of those alt coins that gets less attention these days, mainly due to the sheer size of rivals Bitcoin (CCC:BTC-USD) and Ethereum (CCC:ETH-USD).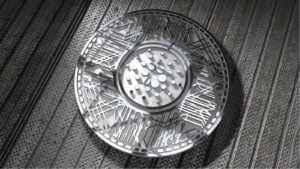 Source: Immersion Imagery via Shutterstock
However, Cardano's recent performance of more than 750% year-to-date is impressive. This return eclipses those of its larger peers, and has propelled this alt coin into third spot.
All that said, let's dive into what Cardano is, and why it's got so much hype right now.
Coinbase Pro Listing Spurring Bullish Sentiment
Since Tuesday, Cardano is up approximately 40% on overly bullish sentiment. One of the key near-term sentiment drivers for Cardano is the announcement from Coinbase the cryptocurrency would be launching on Coinbase Pro. Coinbase set the target launch date for Thursday. As many would expect, as of early Thursday morning, Cardaro has continued its steady climb.
Having a Coinbase listing bestowed upon a cryptocurrency has turned out to be very good news indeed. Other crypto options have soared following similar announcements. Accordingly, the term "Coinbase effect" has been used to describe the power this platform has on cryptocurrency prices.
Cardano was also added to the Bloomberg Terminal on Tuesday. Investors will now have access to view ADA on the terminal, though early reports suggested price information wasn't available as of yet.
One of the key investment criteria for many crypto holders is assessing how mainstream a given cryptocurrency is before buying. For those seeking to hold these as currency, the more ubiquitous a given token is, the more it may represent a store of value.
In this case, investors are certainly jumping aboard the Cardano bandwagon on this news.
Big Banks Turn Bullish On Cryptocurrencies
On Wednesday, an interesting call came from Morgan Stanley (NYSE:MS). This was a broader call on the cryptocurrency segment as a whole. However, Cardano investors can revel in the fact that since this is now the third largest cryptocurrency in the world, these calls now matter more than ever to ADA's price.
What was the take, specifically?
Well, Morgan Stanley's wealth management strategists used the term "investable asset class" in the same sentence as cryptocurrency. Specifically, the cryptocurrency segment is viewed by Morgan Stanley as nearing an inflection point, turning from a highly speculative trading tool to a potential investment.
However, Morgan Stanley was quick to point out that significant hurdles have to be overcome for such a scenario to materialize. First, cryptocurrencies like Cardano will need to operate in a more regulated environment. Liquidity, product availablility, and growing institutional investor interest, are three other factors that need to be taken into account.
Morgan Stanley's view, similar to my own, is that these are still speculative assets carrying high levels of risk. Thus, the bank says to focus on portfolio design and discipline with portfolio sizing.
That said, this is certainly noteworthy news. Investors have bid cryptocurrencies higher in recent trading, with such news being a likely contributor to the rapid rise in the value of cryptocurrencies like Cardano.
Major Update Driving Cardano Higher
This week, non-fungible tokens (NFTs) have become the talk of the town. Everyone seemingly wants in, and cryptocurrencies supporting these digital artifacts are seeing the most impressive gains.
Cardano's recent rapid rise may also be attributed, in part, to the nascent NFT mania.
Cardano has recently updated its protocol, and investors have found the update to be game-changing. According to a recent tweet, "the update introduces native tokens & multi-asset support, bringing exciting new use cases for Cardano."
What that means is, like Ethereum, Cardano can support stable coins, decentralized finance (DeFi) applications, as well as NFTs. Some believe Cardano has the potential to chip away at the early-mover advantage of Ethereum.
While it's likely too early to say which cryptocurrency option will ultimately win out, this is a speculator's game at the moment. Cardano has tons of momentum, and in this market, momentum is more powerful than anything else, including fundamentals, right now.
On the date of publication, Chris MacDonald did not have (either directly or indirectly) any positions in the securities mentioned in this article.
The post 3 Reasons Why Cardano Has Outperformed So Impressively appeared first on InvestorPlace.
The views and opinions expressed herein are the views and opinions of the author and do not necessarily reflect those of Nasdaq, Inc.