The first meme-coin was born in 2013: Dogecoin (DOGE). This cryptocurrency is kind of an homage to the known meme Doge, which origins go as back as 2005. Then, years later, Jackson Palmer, a marketer for Adobe Systems, bought the Dogecoin.com domain for fun. He started like that what it would be a digital currency with over $7b in market capitalization.
Now, we have a curious phenomenon around this cryptocurrency. Its price was boosted to new All-Time-Highs (ATHs) last February, and it wasn't due to something inherent in the coin itself. Dogecoin's system has its own blockchain similar to Litecoin, and this one hasn't changed a lot in a while.
The reasons behind this sudden growth are partly fun and partly revenge. And the consequential adoption because of it.
WallStreetBets, Gamestop, and Dogecoin
In case you don't know it already, there is a subreddit dubbed "WallStreetBets" (WSB), where users worldwide meet to share experiences about the stock market. And to defy the entire financial system by joining forces to sabotage Wall Street, it seems.
Let's check. GameStop (GME) is an American company that sells videogames and related products, physically. With the rise of online game platforms (Xbox, PlayStation, Steam, etc.) and the COVID-19 pandemic, they didn't bear very well. They've been suffering millionaire financial losses and they've closed thousands of its stores worldwide.
That's why, in the stock exchanges, the bigger investors (which mean investment companies) have been betting for its failure and making profits with such bets. They borrowed (and sold) GME stocks at the beginning of January, and they were expecting them to decrease by the end to make profits from it. The disappointment and alarm were large when the stocks didn't decrease but skyrocketed out of a sudden.
From $17.25, these stocks reached $325+ per unit. That meant a 1,784%+ increase and millionaire losses for the short-selling investors. All this because of a group of Redditors from WSB. They literally plotted to buy GME stocks massively to pump its price and, more than likely, sabotage on purpose the bigger hedge funds.
The reasons for this would be, more than looking for profits, sheer revenge. The bigger hedge funds are widely blamed for the financial crisis in 2008 because they caused an awful mortgage bubble that left homeless millions of people.
A lot of people and even some celebrities joined the Gamestop frenzy because that was only the beginning. At some point, somebody dubbed "WSBChairman" on Twitter wondered if Dogecoin has ever reached the dollar. And it was a nice boost for the price of this crypto. Soon, even Elon Musk joined the party with more tweets and a purchase for his son.
Bought some Dogecoin for lil X, so he can be a toddler hodler

— Elon Musk (@elonmusk) February 10, 2021
Last movements and forecasts
The Dogecoin buying fever in late January and early February brought as consequence a new ATH of over $0.084 per coin. Additionally, also got a #DogeArmy on Twitter, determined to boost this token to a dollar. And despite the purchase of Bitcoin by Tesla, it seems like Elon Musk hasn't totally lost the fondness for this currency. In the past, that's been more than enough to move the DOGE market upwards.
Doge spelled backwards is Egod

— Elon Musk (@elonmusk) March 6, 2021
More recently, the Dogecoin adoption has been rising. The crypto-merchant BitPay added the currency to their services. The professional basketball team Dallas Mavericks will start to accept it for tickets and merchandise. The crypto-ATM company CoinFlip just made DOGE available in over 1,800 ATMs throughout the United States. And the custom sports apparel brand Wooter Apparel started to accept this currency as well.
Not bad for a meme-coin, right? It's been so popular these days that a single Dogecoin-themed non-fungible token (NFT / collectible) on Ethereum was sold for almost $70k. Mark Cuban, the owner of Dallas Mavericks, has even calculated that Dogecoin can reach the dollar.
According to him, the team has done over 20,000 DOGE. If they're keep going like this, they can really help to boost the Dogecoin price.
The @dallasmavs have done more than 20,000 #Dogecoin in transactions, making us the LARGEST #DOGECOIN MERCHANT IN THE WORLD ! We thank all of you and can only say that if we sell another 6,556,000,000 #DOGECOIN worth of Mavs merch, #dogecoin will DEFINITELY HIT $1 !!!🚀🚀🚀

— Mark Cuban (@mcuban) March 6, 2021
He's not the only one to believe it. Popular analysts have placed this coin between $0.006 and $1 by late 2021. Others have even bet to $10 – $50 in the next five years. Of course, is never a safe bet, but who had guessed its growth so far? Not even its founder, Billy Markus, as he declared recently in an open letter.
"People are talking about Dogecoin going to $1 – that would make the 'market cap' larger than actual companies that provide services to millions, such as Boeing, Starbucks, American Express, IBM. Does Dogecoin deserve that? That is not something I can comprehend, let alone answer."
The power of the culture can be huge. And Dogecoin is part of it. For now, we can just wait and see from the rank #14 in market capitalization and a price of over $0.0056 per coin. Who knows if we can profit or lose it all tomorrow? But as Billy Markus confessed: "Dogecoin and the Dogecoin community can be a force for good".
Read more about crypto and blockchain in the official Alfacash blog
About the Author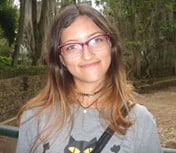 Isabel Pérez, Alfacash
Literature professional in the crypto-world since 2016. Writer, researcher, and bitcoiner. Working for a better world, with more decentralization and coffee.
Image by Marcel Heidemann from Pixabay