Tesla CEO Elon Musk has said he hopes he is investigated by U.S. regulators over his online posts about the meme cryptocurrency dogecoin.
The tech entrepreneur—who is currently the world's second richest person with a £176 billion net worth—has repeatedly referenced the token in recent weeks via his personal Twitter account, which has a vast reach of more than 48 million followers.
Speculation about a potential probe into his social media activity by the Securities and Exchange Commission (SEC) circulated on Thursday.
It was sparked by a tweet from a financial markets newswire called @FirstSquawk which claimed: "SEC IS SAID TO INVESTIGATE TESLA CHIEF EXECUTIVE MUSK FOR HIS TWEETS ON DOGECOIN: SOURCES FAMILIAR WITH THE MATTER."
As of Friday morning, it had not been confirmed that such an investigation would take place. Newsweek has contacted the federal agency for comment.
In any case, Musk did not appear to be personally concerned, tweeting about the claim on Thursday: "I hope they do! It would be awesome." He added laughing emojis.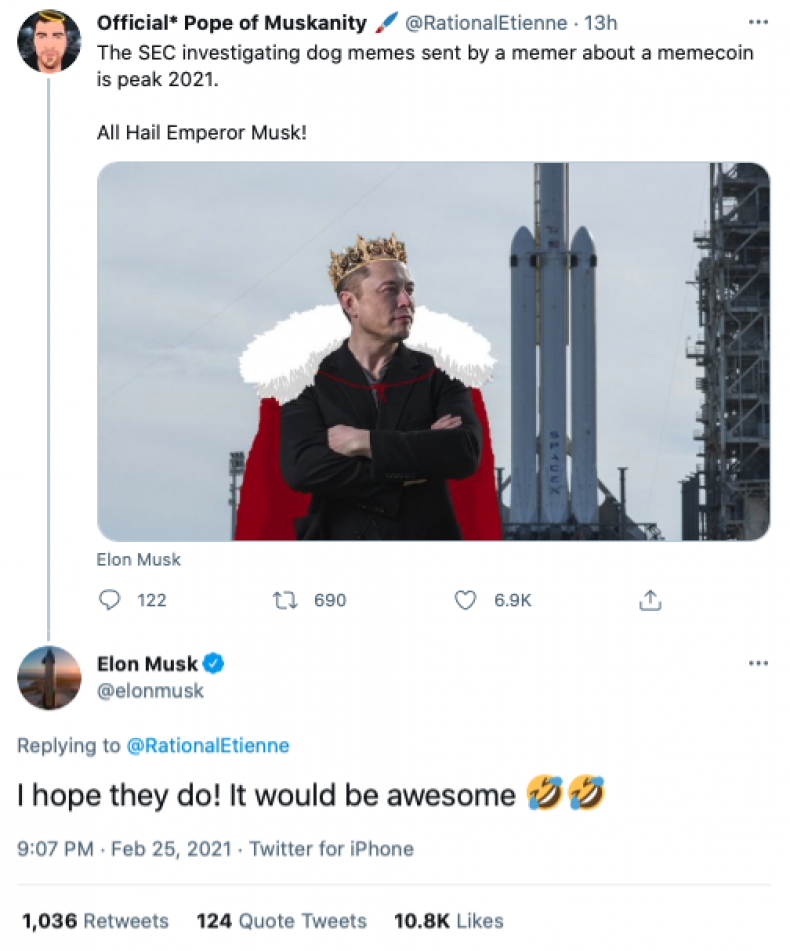 Dogecoin was launched in 2013 using branding of a Shiba Inu dog from a then-popular internet meme, and has repeatedly been mentioned by Musk in the years since.
At the end of January, dogecoin's value increased amid a broader stock market frenzy that saw so-called "meme stocks" surge in value as Reddit users poured money into companies including GameStop to disrupt hedge funds and short sellers.
Musk, who is well-documented as using internet memes, last tweeted about dogecoin on February 24, when he shared an image of the dog from its branding planting a flag on the moon, a play on a phrase used in the community to describe price surges.
Earlier this month, he tweeted "who let the Doge out" and conducted a poll to determine if dogecoin could become the "future currency of Earth." The consensus was yes.
When asked by a Twitter user on February 23 why he is a fan of the joke crypto, Musk replied: "I love dogs & memes." A single dogecoin is currently valued at $0.05.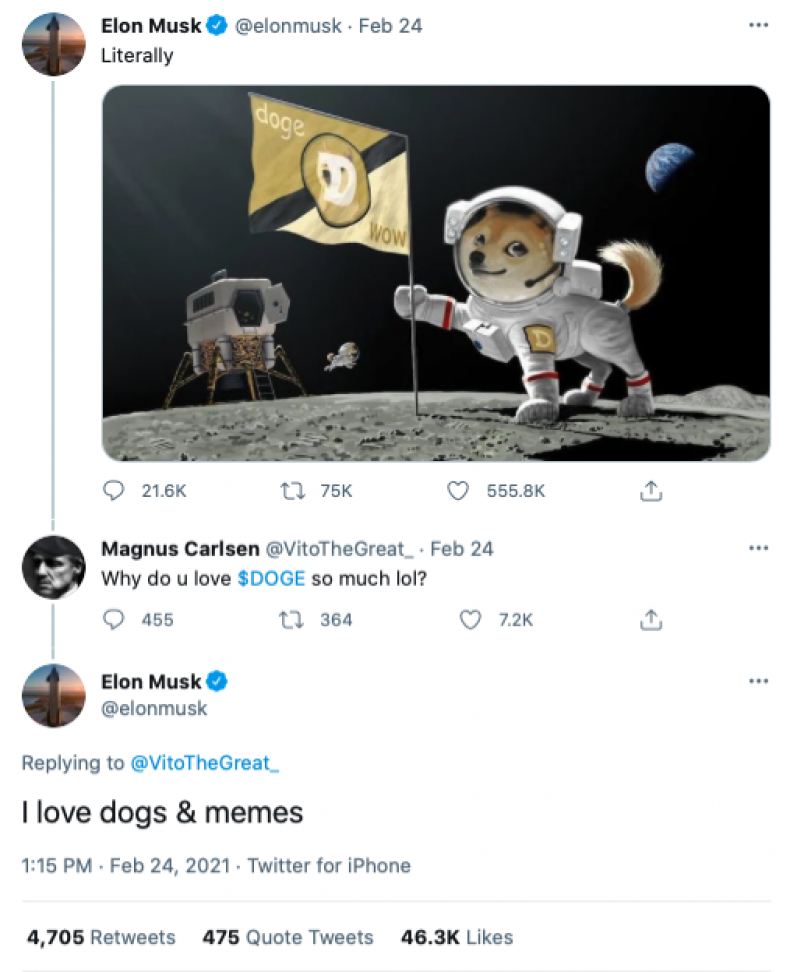 While he has been embraced by the dogecoin community, especially on Reddit, Musk previously said he supports the more widely-used cryptocurrency bitcoin.
His car giant Tesla recently announced it had invested around $1.5 billion into bitcoin and may let customers pay for its products using digital money in the future.
"Occasionally I make jokes about dogecoin, but they are really just meant to be jokes," Musk said in an interview on the invite only audio app Clubhouse on January 31.
If it did investigate, it wouldn't be the SEC's first clash with Musk. In September 2018, Musk settled a securities fraud charge brought by the agency in retaliation for a tweet sent on August 7, 2018 that said he could take Tesla private at $420 per share.
The SEC alleged Musk "knew that the potential transaction was uncertain" and "had not discussed specific deal terms, including price, with any potential financing partners."
Under the terms of the settlement, the SEC said Musk and Tesla would each pay a $20 million penalty and Musk would step down as chairman of his company.
Roughly a week later, Musk had referred to the U.S. agency in a sarcastic tweet as being called the "Shortseller Enrichment Commission," as CNBC reported at the time.
In a CBS 60 Minutes interview segment in December 2018, Musk made his position on the agency very clear. He said: "I do not respect the SEC. I do not respect them."