When to sell dogecoin for profit
You should consider a few factors to decide when to sell dogecoin for the best results. If you set an investment goal when you purchased the joke currency, you should ask yourself if the goal has been achieved. If so, you can proceed to sell. 
Also, if you're just after profits, you might want to assess dogecoin's price forecast before you sell. Could it rise more? If you sell now, you might miss out on the next bull run. If the price is about to crash, would you be better off taking profits now?
Article continues below advertisement
With dogecoin's price up about 900 percent YTD, anybody who bought in at the beginning of the year could sell now for a decent profit. To maximize your profits, you should consider timing the sale. Dogecoin's price trends to soar after Tesla CEO Elon Musk tweets about it. You could make more profit timing a sale around Musk's or other celebrity's favorable mention.
Dogecoin's price shot up to a record high of $0.087 in early February after Snoop Dogg and Gene Simmons announced that they were fans of the meme-inspired cryptocurrency. Simmons also revealed he had made a six-figure investment in dogecoin and went on to label himself as the "god of dogecoin." 
Article continues below advertisement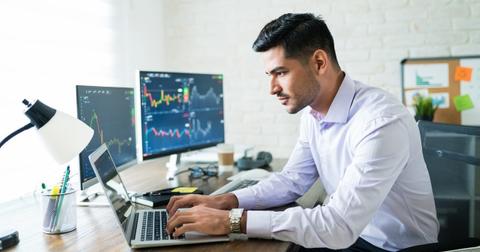 How to sell dogecoin
There are several ways you could go about selling a cryptocurrency. You could use a crypto exchange, direct trade, or a marketplace. If you choose to cash out your dogecoin holding through an exchange, you will start by transferring the coins from the wallet to the exchange. 
Article continues below advertisement
Once you do that, make a sell offer. In the offer, you will state the price at which you want to sell your dogecoins and what you want in exchange. You could sell the dogecoin for dollars or another cryptocurrency.
If the transaction goes through, the proceeds from the sale would be credited to your exchange account. If you sold the dogecoin for dollars, you could withdraw the proceeds to your bank account. Some exchanges don't support direct conversion of dogecoin to dollars. In that case, you would convert the dollars into another cryptocurrency like bitcoin, ether, or litecoin. Then, you can convert the intermediary cryptocurrency to dollars and transfer the money to the bank. Keep in mind that exchanges usually charge a transaction fee, which can vary from exchange to exchange.
Article continues below advertisement
If you don't want to go through an exchange, you could seek a direct trade. There are platforms that link cryptocurrency sellers to potential buyers. The parties negotiate the terms and close the transactions if they agree.
The other option you might explore if you want to sell dogecoin is a crypto marketplace. If you would like to sell your dogecoin and use the funds to purchase pizza, then someone on the marketplace would use their cash to purchase the pizza for you. You would release the dogecoin equal to the value of the purchase to them. These transactions work if you want to pay with cryptocurrencies at an online store that doesn't accept them. 
Article continues below advertisement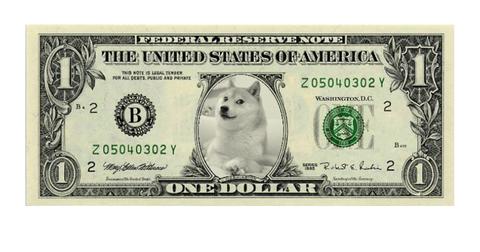 Dogecoin's outlook
Prospective dogecoin investors are interested in knowing its price forecast, especially considering how bitcoin's blistering bull run has made many people millionaires. Dogecoin has come a long way and it could still go far. In December 2013, a dogecoin was selling for $0.00026. The price is now above $0.05. Recently, dogecoin touched a record high of $0.087 after several celebrity endorsements and Musk's tweet mentions. The longtime dream of dogecoin fans has been to get the price to $1. There was even a TikTok campaign in 2020 to push the altcoin's price to the dollar mark.
Article continues below advertisement
Dogecoin's prospects look bright as its adoption increases. The dogecoin community has used the meme currency to tip online creators and sponsoring sport competitions, including a team competing at the Olympic and a driver in Nascar racing competition. Dogecoin's use as a payment is also gaining momentum. More businesses are adding it as a payment option. Consumers are willing to pay with dogecoin because of its low transaction fees. 
Some people want to sell dogecoin to book profit, but that doesn't mean its rally is done. As dogecoin's practical uses increase, the demand for it will rise and so will the price. Finally, dogecoin might be tiny now compared to blue-chip cryptocurrencies like bitcoin and Ethereum's ether, but it's one of the new altcoins that are popular with celebrities.