The DOGE price slipped 25% from last week's high after a mysterious Shiba Inu billionaire moved his SHIB tokens, stoking crash fears. Dogecoin (DOGE) is unchanged at $0.269 this morning and down around 4% this week. However, Dogecoin's current market cap of $35.5 billion cements its place as the 9th most valuable cryptocurrency behind Polkadot (DOT).
Shiba Inu (SHIB) emerged as a bonafide threat to DOGE's meme-coin crown in October. The SHIB token surged almost 1,000% to a $51b market cap last month, briefly flipping DOGE in the process. As a result, Dogecoin fought back, clawing its way to a 7-week high.
SHIB euphoria peaked when it came to light that a lucky punter had turned an $8k investment into a staggering $5.7 billion. Incredibly, the wallet holding the tokens had been untouched for months. Nonetheless, profit-taking towards the end of last month forced SHIB down 35%. At the same, the Dogecoin price jumped as realized profits from SHIB rotated into DOGE.
Shiba Inu Whale
However, almost $3 billion of SHIB left the wallet yesterday, causing the price to drop a further 20%. Subsequently, the DOGE price has lost a potential bullish catalyst. Logically, if Shiba Inu collapses under the weight of colossal liquidation, it will dampen sentiment towards meme-coins. Furthermore, it could leave investors with less capital to fund future Dogegoin rallies.
Dogecoin Price Analysis
The daily chart shows the DOGE price is trending sideways in a broad channel between $0.200 and $0.350. Above the market, the 200-Day Moving Average at $0.2860 offers resistance. Whereas the 100-DMA at $0.253 provides support.
In my opinion, sideways is the path of least resistance until a catalyst arrives to force the price out of the range. The obvious conclusion is that the SHIB whale moved the tokens to sell them, which I consider bearish for the DOGE price.
However, 'obvious' very rarely works out in crypto trading. And for that reason, I remain open-minded as to where Dogecoin heads in the immediate future. Whilst I am unsure of the price, I am sure interested to see which meme-coin claims top-dog status.
DOGE Price Chart (daily)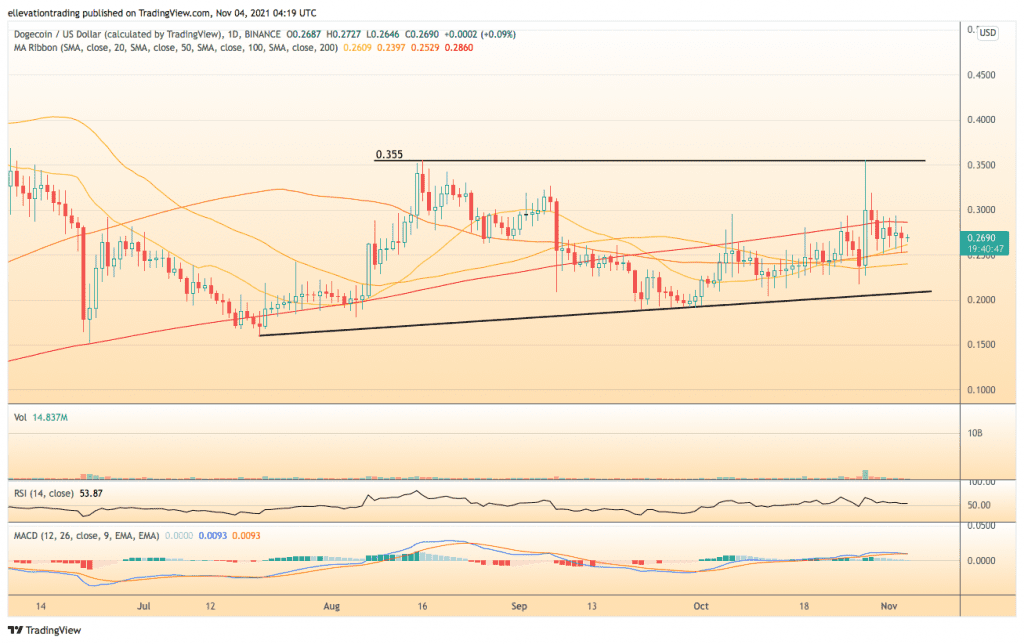 For more market insights, follow Elliott on Twitter.