Dogecoin gains nearly 30% on the day.
Gains come with almost all Doge-memed tokens rising sharply.
Dogecoin still lags Shiba Inu in volume
After days of lagging behind its meme coin in performance and trading volumes, Dogecoin finally sparked to life on Thursday, spurring bullish Dogecoin price predictions.
The DOGE/USDT pair posted gains of 29.63% on Thursday. Despite an intraday pullback, the pair's gains come as the crypto market attempts a recovery following the selloff of Tuesday and Wednesday. 
Dogecoin has now risen 19% for the week, and the DOGE/USDT pair is up more than 4,000% for the year. Its performance in recent months floundered as the markets exacted vengeance on Dogecoin's chief promoter Elon Musk for his role in the earlier crash of Bitcoin and other cryptos in May. 
Dogecoin Price Prediction
The spike in the DOGE/USDT pair took off from a bounce on the 200-day moving average. This move violated the 0.3015 resistance, followed by a pullback. The pullback move was rejected by this price level, as it now acts as role-reversed short-term support. Price would need to breach the intraday high to target the 0.3487 resistance barrier. Above this level, the resistance zone that captures the highs of 17-20 April and 2-6 June at 0.3938-0.4392 serves as the next upside target for the bulls.
On the other hand, a decline below 0.3015 targets 0.2643. Below this level, the 200-day moving average serves as an obstacle before 0.2195, while 0.1961 and 0.1634 serve as additional targets to the south.
Dogecoin: 4-Hour Chart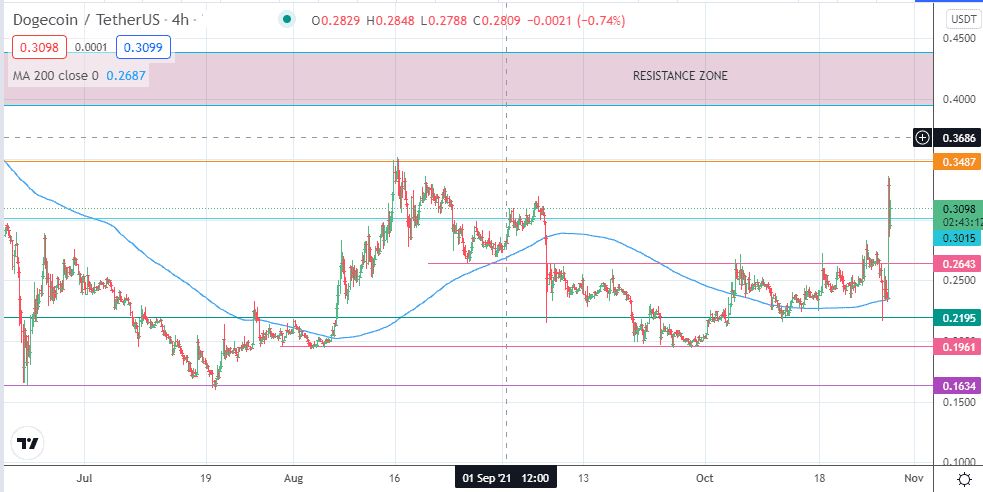 Follow Eno on Twitter.